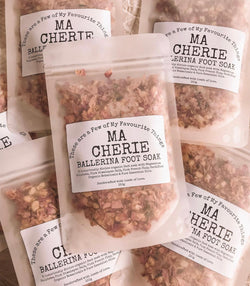 A Few Favourite Things
Ma Cherie Organic Foot Soak
This luxurious and gentle foot soak for tired ballerina feet is a mineral rich blend of Magnesium Sulphate and Pink Himalayan Salt to relax and restore with Pink French Clay to further detoxify. Blended with 100% pure essential oils then adorned with these beautiful and purposeful Certified Organic Botanicals:
Rose Petals: Soothing & aromatic
Jasmine Buds: antiseptic, euphoric & spasm relieving
St Johns Wort: anti-inflammatory, anti-spasmodic & sedative
Gotu Kola: rejuvenating, diuretic, anti-inflammatory
Arnica Flowers: anti-inflammatory, anti-oedamatic
Add desired amount to warm foot bath and allow to dissolve. Soak feet for 20 minutes. 
No artificial colours or fragrances. No preservatives. Handcrafted with loads of love in Australia.
150g  resealable packet