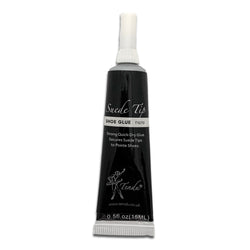 Tendu
Suede Tip Pointe Shoe Glue
Strong quick-dry shoe glue, secures suede tips to pointe shoes. 
Volume 15 mL
Apply in a well ventilated room. Trim suede tip to size. Apply glue to the suede tip and press onto the shoe platform, hold in place for 20 seconds. Secure with elastic band for approximately 1 hour, until fully dry.
Warning: Avoid inhalation or contact with skin and eyes. Do not swallow. If contact occurs, rinse thoroughly with water. Keep away from young children. Refer to product instructions on tube.