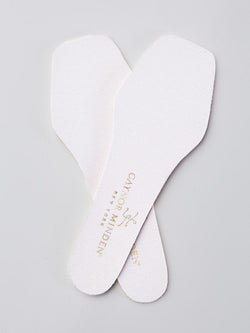 Gaynor Minden
Adhesive Sockliners
The insole that stays in place! A great solution for fine-boned feet, delicate feet, narrow feet, shallow feet, and even ordinary feet struggling in between sizes.
So many fittings are made so much better by the simple addition of Adhesive Sockliners - the insoles that stay in place.
Adhesive Sockliners are made from genuine Poron Performance  Cushioning.
Instructions: Trim the sockliner to the correct length before placing it in your shoe. Peel off the front part of the adhesive backing and place the front of the sockliner in your shoe. Keep unpeeling and pressing the sockliner in place as you move toward the back of the shoe.