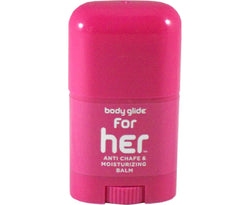 Pillows for Pointes
Body Glide
A roll on to prevent blisters on your feet.

Body Glide is a proven barrier that helps prevent blisters and chaffing.
Invisible, water resistant for all day protection. Hypo-allergenic. Fortified with vitamins A, B, E and F. Anti-chafe and moisturising balm.
Apply daily to protect bust line, thighs, the underside of arms, skin rubbing skin anywhere you are vulnerable to rash, irritation, chafing, or rawness.
Skin protection with no mess.
Size: 22 gms (0.80 ounces)
Packaging: Plastic container with cap, inside a zip lock plastic bag with instructions for use.
Ingredients: Caprylic/Capric Triglyceride, Cetearly Alcohol, Ozokerite, Glyceryl Behenate, Stearyl Alcohol, Allantoin, Coconut Oil, Sweet Almond Oil, Tocopherol, Glyceryl Linoleate, Glyceryl Linolenate