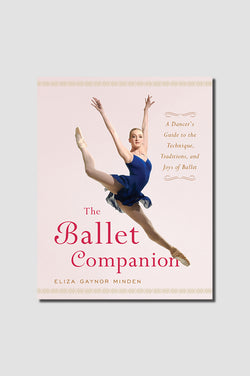 Gaynor Minden
Book: The Ballet Companion by Eliza Gaynor Minden (Hardcover)
A Dancer's Guide to the Technique, Traditions, and Joys of Ballet
The Ballet Companion by Eliza Gaynor Minden is a beautiful, comprehensive, up-to-date guide to the technique, training, artistry, and enjoyment of ballet. Filled with gorgeous color technique photos of Maria Riccetto and Benjamin Millepied, The Ballet Companion is already a classic, as well as the perfect gift for teachers and students of all levels.
Includes:
150 stunning photographs 

practical advice for getting started
explanation of ballet fundamentals
an illustrated guide through ballet class
guidelines for safe, healthy dancing through a sensible diet, injury prevention and cross training with yoga and Pilates
descriptions of must-see ballets
Whether a budding ballerina, serious student, or adult returning to ballet, dancers will find a lively mix of ballet's time-honored traditions and essential new information.