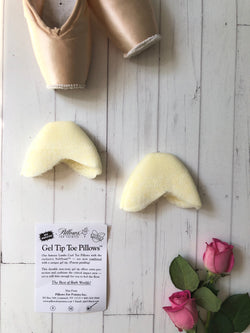 Pillows for Pointes
Gel Tip and Lambs Wool Pointe Shoe Pads
The famous Lambs Curl Toe Pad combined with a unique gel tip. The durable non-toxic gel tip offers extra protection and cushions the critical impact area - yet is still thin enough for you to feel the floor. The dancer has the comfort of the Lambs Curl Toe Pad with a gel tip for extra protection.
The Best of both Worlds!
Available in sizes Small, Medium and Large.
Prices are per pair.