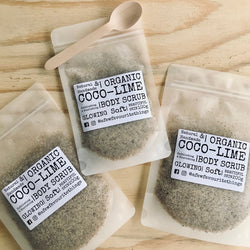 A Few Favourite Things
Coco-Lime Organic Body Scrub
This 100% natural and organic exfoliating scrub with an exhilarating fresh lime scent combines coconut & crushed coconut shell granules, pink himalayan salt, coconut sugar and coconut oil with other skin nourishing ingredients and certified organic distilled lime pure essential oil to leave your skin beautifully soft and glowing.
Ingredients: Coconut, raw sugar, Rapadura sugar, coconut sugar pink Himalayan salt, natural sea salt, coconut oil, coconut shell granules, sweet almond oil, jojoba oil, macadamia oil, avocado oil, grape seed oil, natural glycerine, castor oil, vitamin E, lime essential oil
All natural ingredients. No artificial colours or fragances. No preservatives. 
100 grams resealable packet.