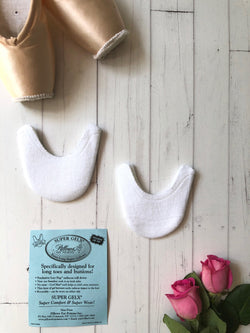 Pillows for Pointes
Extra Long Super Gellows Pointe Shoe Pads
Our best seller pointe shoe pads for all ballerinas!
Once you try these toe pads, you will never want to go back to your old ones! Pillows for Pointe's extra long Super Gellows are a dance bag must have for dancers needing protection for their bunions. These toe pads are specifically designed for long toes and feet with bunions. Features seamless Cool Max sock lining on each side of the toe pad. No seam, helps to wick away moisture. A thin layer of gel between sock layers to reduce impact to the foot.

Toe pads are reversible - can be worn on either side. Hand wash with mild soap and air dry. One size (fits 4.5 pointe shoe and over). Prices are per pair.