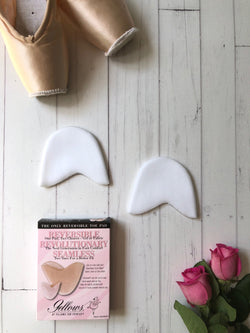 Pillows for Pointes
Gellows Pointe Shoe Pad
The next generation in pointe shoe comfort!
The gellows pointe shoe pad is the only reversible seamless gel pad for the ballerina. One side is a non-toxic non-silicone gel (designed to absorb shock and impact) and the other is a seamless Cool Max fabric (98% Polyester, 2% Lycra), which helps whisk away moisture. The exclusive combination of gel and fabric cushions and protects the foot, yet is thin enough for you to feel the floor.
Two sizes for a better fit. Can be cut to fit. 
Dancers usually wear the gel outside - and the sock inside. The tights must be worn over the gel. Hand wash and air dry. Instructions supplied.
Prices are per pair.