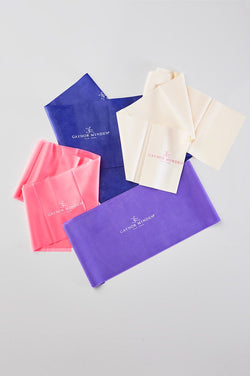 Gaynor Minden
Resistance Band
Any time, anywhere — the ultimate portable workout tool. Resistance Bands improve your flexibility, increase your strength, and fit easily into your purse or dance bag. Four very different weights, but sold separately so you buy only what you need.
 ◗ Pink with White Logo: Extra Light
◗ White with Pink Logo: Light
◗ Purple with White Logo: Medium
◗ Navy with White Logo: Heavy
Material: Latex, washed to remove 99% of allergens
"Photo(s) by Eduardo Patino, NYC ©2019 Gaynor Minden, Inc"