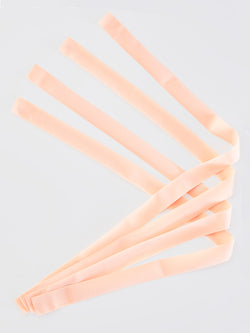 Gaynor Minden
Stretch Ribbon for Pointe Shoes
Must have Pointe Shoe Essential.
Stretchy enough to be super comfortable, but firm enough to provide extra support for your hardworking ankles.
Pre-cut and ready to go. Each packet holds four 21" (53 cm) ribbons, ample for one pair of pointe shoes.
7/8″ (2.2 cm) wide
Colour: Matte Pink, (matches Gaynor Minden pink pointe shoes and light pink tights)
Material: Nylon/Spandex. 
"Photo(s) by Eduardo Patino, NYC ©2019 Gaynor Minden, Inc"