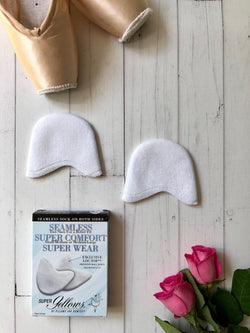 Pillows for Pointes
Super Gellows Pointe Shoe Pad
Super Gellows t

oe pads are perfect for pointe shoes.

Each side of Super Gellows has a unique knitted seamless fabric liner made of Cool Max (98% Polyester 2% Lycra), which helps wick away moisture. 

A specially formulated non-silicone polymer is between the sock liners to absorb shock and impact to the foot. Exclusive Loc-Top prevents roll down.

Hand wash and air dry.

Two sizes. S/M fits up to size 4.5 pointe shoe. M/L fits pointe shoe size 5 and over.
Prices are per pair.