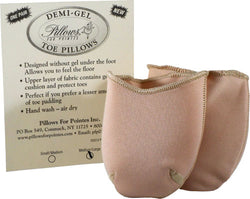 Pillows for Pointes
Demi-Gel Toe Pillows
Designed without gel under the foot and allows you to feel the floor.
Perfect if you prefer a lesser amount of toe padding.
Upper layer of fabric with gel material inside. Bottom layer is fabric without gel.  
Unique design. Upper portion is a double layer of stretch fabric with a gel polymer inside. The bottom layer is stretch fabric which allows you to feel the floor. Soft Seam™ eliminates the bulky side seam. Two sizes.
Color: Tan
Sizes: Small/Medium and Medium/Large.
Sizing Information: S/M fits up to 4-1/2 pointe shoe sizes. M/L fits 5 and over.
Packaging: 1 pair in a zip lock plastic bag with an insert card.
Hand wash - air dry.